I'm typically always late with presents. Last Christmas was no different. Couple of weeks before Christmas I realised that there's only couple of weeks before Christmas – and nothing ready. That's when I usually spring into action. I grabbed my felting yarn and needles and knitted some quick and easy presents: potholders. I know they are a bit lame among fancy and expensive presents, such as new phones and cameras and such, but I can't afford such presents. At least these are handmade and they come in handy in the kitchen.
The square potholders are knitted from corner to corner. Here is the pattern.
The star pattern is here. I used single yarn for the smaller one and double for the bigger one.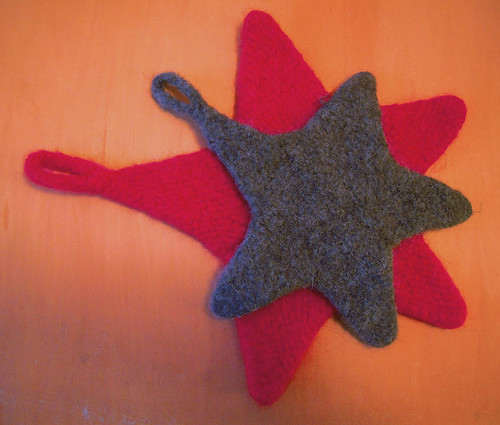 And the knobbly one can be made according to these instructions.
Apologies for the terrible quality of the pictures. Like I said, I was already very late with these and had no time to spare to get decent pictures. It's the darkest time of the year too, but I'm sure you can see the idea.